What do we west Europeans imagine China to be like? What image does someone who spent his early years in China, left the country with his parents, and grew up in the West have of China? What role models does he have at his disposal? And how do we see our own culture?
Born in China… Jun Yang, born in China in 1975, left the country with his parents when he was four years old. He went to an English-speaking school (the Vienna International School), studied in Amsterdam, Beijing and Vienna, and lived for a number of years in Los Angeles and Tokyo. In the mean time his parents and one of his brothers have returned to live in China, a second brother runs a Japanese restaurant near Amsterdam, and a third owns a Chinese restaurant in Vienna.
Coming home… These experiences have left their mark on Jun Yang. Again and again his works pose the question of possible role models. Where are such role models to be found? Which images mould identity? How is iden-tity acquired? Jun Yang's images of China are based on (vague) memories, on stories told by his parents or by people working in the family restaurant, on subsequent journeys to China, and above all on films. His "Coming Home Daily Structures of Life – Version D 00" features short Chinese restaurant sequences from Hollywood films. For Chinese restau-rants play a big role in his own biography. His parents' restaurant was the family living room, the children's playroom, the kitchen, and the family parlour.
More Chinese than the Chinese… Images that the West project onto Asia also function as models and retrospectively influence the artist's own image of Chinese culture ("my parents were more Chi-nese than the Chinese in China" – Jun Yang: "Corean New Year 2000"). The two works "BA 006, Chickenwithcurryrice" and "Corean New Year 2000, and the neon work Chopsticks/ How To Do That? " are to a certain extent excerpts from or compressed versions of subjects dealt with in the video.
In a shop window… Jun Yang's performances also deal with media images. Every day he takes a photograph from a local news-paper and displays it in a shop window as a three-dimensional sculpture. The next day a photograph of the "newspaper sculpture" with Jun Yang in the leading role appears in the same newspaper from which the original press photo was taken. Jun Yang appropriates already existing (media) images and sets up a relation-ship between himself and them.
Edition: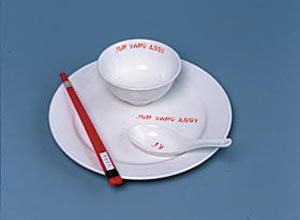 Jun Yang: CHINA 2001/2002
China with signature as onglaze decoration
Set of 4 Pieces
Limited edition: 20
Price: 300.00€